IT Consulting
Your trusted IT Consultant and IT Outsourcing for businesses in Wilmington, Philadelphia and Newark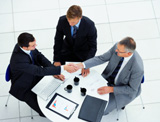 Do You Constantly Stress Over Frustrating Technology Issues? "What can IT Consulting services do for my business?" The answer is IT Consulting services.
With Virtual CIO (Chief Information Officer) services from Micro Enterprises LLC, you get IT Outsourcing services that can make your Wilmington, Philadelphia and Newark, DE business a worry-free environment.
Trusted IT Consulting from Micro Enterprises means you'll get:
Increased efficiency - with Technology Planning that will help us identify weak areas in your network for more cost-effective results.
Comprehensive consulting strategies - includes expert Technology Installation, access to our trusted vendors and more.
A strong defense system - our IT Regulation services mean your business can survive whatever comes your way.
Let our IT Consultants show you how to use your technology as a tool for success, as opposed to a constant source of stress and worry.
With Virtual CIO services from Micro Enterprises, you'll be able to simplify the way you use the technology you count on every day. Our IT Consulting Services eliminate the complications of your technology for a streamlined business experience in Wilmington, Newark, New Castle, Philadelphia, Swedesboro, Mt Laurel, Cherry Hill, Moorestown, Mt Holly, Elkton, Chester, Woodbury and Paulsboro.
No matter if your business is looking for computer consultancy, IT outsourcing, IT consulting services, outsourced IT, technical support and IT outsourcing services, small business server consulting, network consulting, computer security consultants, or Virtual CIO (Chief Information Officer) service, you can depend on us.
Our expert consultants understand how to use IT as a tool to streamline your business. With an IT Consultant as your teammate in technology, you can rely on our expertise to help your company succeed.