VoIP
Telephony systems designed with your business in mind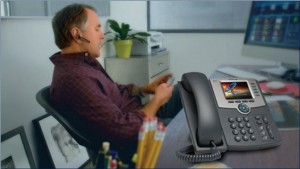 microBELL® hosted PBX brings together a set of features rivaling a Fortune 500 company. Using your existing high-speed Internet connection, your phones are integrated with your existing computer network by the same tech support provider you already depend on.
By leveraging the power of Voice Over Internet Protocol (VoIP), customers typically save up to 80% off the start-up costs of a traditional premise-based PBX system, and as much as 50% on your monthly phone bills. VoIP gives tremendous flexibility to connect remote workers and offices seamlessly. And our standards-based system can work with dozens of telephone handsets in every price range. No more outrageously priced proprietary telephones.
Your phone package includes features most other providers charge extra for. Auto attendant? It's included. Call queues? Yep. Custom music on hold? Of course.
microBELL ® hosted PBX grows and changes with your business needs. Use as much or as little as you need. Simply add additional phone extensions as you hire new staff. Add another extension for your home office so you can work remotely.
And best of all, microBELL ® hosted PBX is offered by and supported by the tech support provider who you already know and trust. We know your business and can match up the right features to make you more productive and save money. And when it's time to make a change, just let us know.
Setup is effortless. We can have you up and running with microBELL ® hosted PBX within a day or two. Welcome to the new world of telecommunications. We think you're going to like it..
With VoIP installation and support from Micro Enterprises, your business can enjoy all the benefits of modern communication techniques that are tailored to your needs for an affordable price.
VoIP solutions from Micro Enterprises are:
Economical – cut your telecommunication costs and avoid extra setup, installation or maintenance fees
User-friendly – easily understandable at-a-glance interface
Dependable – your hosted system is monitored and maintained 24/7
Convenient – answer calls in remote locations via laptop or forwarding to a mobile phone
Green – cut travel costs and paper waste by sharing information online
Features:
Unlimited local, long distance,and calls to 22 popular foreign destinations on select plans
Remote phones work just like in the office
Auto attendant for dial-by-name, extensions, and a company directory
Ring groups
Call queues
Music or messages on hold
Extension dialing
Keep your existing local and toll-free phone numbers
Virtual numbers in other area codes for lead tracking or a local presence in remote cities
Direct numbers
Powerful voicemail system with email forwarding and message transcription available
Caller ID with name
Call forward, transfer, call waiting
Enhanced 911 (E911)
Intercom
Fax to email
Find out which VoIP system is the right fit for your business.