Managed Services
Strategic IT Management Services and Computer Network Maintenance for Businesses Throughout Wilmington, Philadelphia and Newark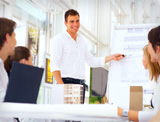 Are You Sick And Tired of Technology That's Always Broken? Why can't I get IT support that doesn't cost a fortune? Have you ever thought that?
If so, Micro Enterprises LLC can provide you with IT Support and IT Management that can take your mind off technology in Wilmington, Philadelphia and Newark, DE.
Managed Services from Micro Enterprises means our experts will:
Fully consider your business, budget and your expectations to deliver only the IT Support Services that YOU want, not what we assume you should have.
Provide computer support that will prevent data loss and downtime from occurring, instead of reactively stomping out flames.
Ensure each and every IT Consulting recommendation we make, by giving you our 100% guarantee.
We can show you how our IT Support and IT Management plans can change the way you think about technology.
Micro Enterprises provides the technology you need to get ahead of the competition. Serving Wilmington, Philadelphia, Newark, New Castle,Swedesboro, Mt Laurel and Cherry Hill, we consult with you the find the most cost-effective IT Management and computer network maintenance to help you concentrate on business as usual.
Whether you need network consulting and systems management services, network maintenance services, IT support, computer wireless networking installation, network and server support, remote & on-site support, or IT management services, we've got the solution.
Our team of professionals represent the brightest in the IT industry. With our knowledge and expertise, we can take the stress out of technology and let you focus on your business. When you have a reliable partner in computer network maintenance and IT Support, you can get back to running your business.