Security
Network security and computer data security solutions for businesses in Wilmington, Philadelphia and Newark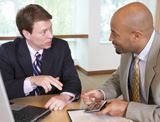 Does The Threat Of Computer Viruses, Hackers and Malware Constantly Get In The Way Of Doing Business? "What am I doing to do when myself or an employee accidentally loses a USB drive with confidential business data on it?" This is a real threat to businesses today.
With our all-encompassing Computer Data Security and Virus Removal solutions that bulletproof your company and its valuable data, you can focus on more important things. Our Network and Data Security solutions, along with virus removal, malware and spam protection services are the answer to your security concerns in Wilmington, Philadelphia and Newark, DE.
With a well-planned security architecture from Micro Enterprises, you get:
Greater profitability, with the confidence to achieve more through complete data security management.
Hacker prevention, with solutions for network security to defend you from numerous online threats.
A reliable team of experts on your side, working with you to design and implement a state-of-the-art security architecture.
With security solutions that are designed to meet your unique challenges, you can rest easy knowing your business is in good hands.
Micro Enterprises LLC has the experience and innovation you can count on to safeguard your company from the full range of security threats you face. Serving companies in Wilmington, Philadelphia, Newark, New Castle,Swedesboro, Mt Laurel and Cherry Hill, we offer Wireless Network Security services that give you the confidence to stop stressing about security and focus on your organization.
Whether your business wants network antivirus solution, antivirus and Internet protection, intrusion blocking, wireless network security, computer data security, virus removal, computer & PC security, wireless protection, or security consulting, we can take care of it for you.
If using the Internet is part of your daily business process, you are have already put your company at risk. Defend yourself with our Computer Data Security and Virus Removal services before the Internet takes over your business.